Agent Rikki Hepburn visited Costa Rica, she couldn't stop talking about it - so here is her blog.
I just returned from the most amazing trip to Costa Rica, my first time and so hope I have the opportunity to return. If you have never been, definitely add it to your list of destinations you want to see, however do explore the country as well as visiting the beach! This year there are direct flights from Vancouver which makes it that much more accessible.
We started in San Jose with a stay a famous Unique Resort, Finca Rosa Blanca Coffee Plantation, where everyone of their 14 rooms is entirely different and absolutely stunning! Dinner in the dining room overlooking the lights of San Jose was beyond delicious!!! Here we met our guide Edgar whom proceeded to entertain and educate us about his home country for the next 7 days. With Edgar we toured the coffee plantation, we were amazed with the quantity of production within a very small facility.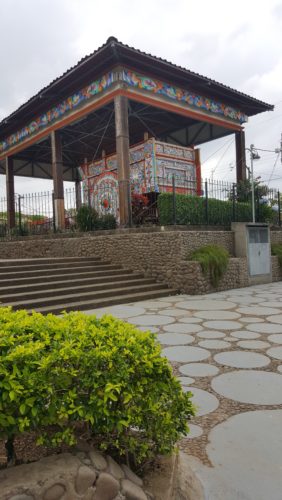 Shortly we headed to the Cloud Forest with a visit at Sarchi to see the worlds largest Ox Cart, and lunch at the Chayote Lodge with stunning views of the valley along the way. One can definitely imagine spending the night in one of these rooms enjoying the view and one would be pleasantly entertained by the owner with stories of his travels and the unique pieces he has collected from around the world, which he has incorporated into the décor of the building.
We were all speechless when we arrived at El Silencio Lodge, it so serene that it was almost magical. The staff simply can not do enough for you, from fresh juice on your deck in the morning to a hot water bottle in your bed at night. They simply do not miss a step. Although you may feel you are in the middle of no where, there is no lack of things to do, from trail hiking to the waterfall, highly recommend a guide as the education is so worth it, to feeding the Rhode Island Red chickens, to exploring the trout farm was just a start. There is also horse back riding, an amazing spa and a wine tasting worthy of Prince Harry and Princess Meghan. So, when you decide to venture out to Costa Rica, do yourself a favor and let us incorporate 3 nights into the itinerary. You will be so glad you did! Did I mention the private jacuzzi in each bungalow!!!!!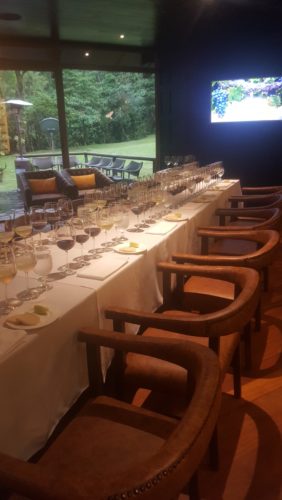 Credit: Rikki Hepburn
As sad as we were to depart two days later, the area of Arenal in the rain forest had so much to offer, we couldn't wait to explore. For outdoor enthusiasts you would need a month to take advantage of all the adventures the are has to offer, waterfall rappelling, river rafting and amazing hiking to name but a few. We explored the rain forest at Arenal Hanging Bridges Park. Thanks to eagle eyes of Edgar we got to see spider monkeys, sloths, iguanas, snakes (yuck), owls and amazing birds.
The next day we saw Howler monkeys, bats and so much more as we floated down the river, never did I think I could sit on the edge of a rubber raft for 2 hours and be so mesmerized with the beauty and sounds that we could have carried on for much longer, however lunch and tortilla making at the home of Dona Mara was next and definitely not to be missed. I can now make a corn tortilla, however with out the wood stove I doubt it will taste the same.
We visited The Springs Resort for dinner this evening, the site of several filming of the Bachelor series, however first we had the opportunity relax mineral waters of the hot springs with pools for 83 to 105 degrees. It may have been raining but who cared! It felt was wonderful! The Springs is an amazing resort for families as the Club Rio outdoor centre is perfect for them and on site.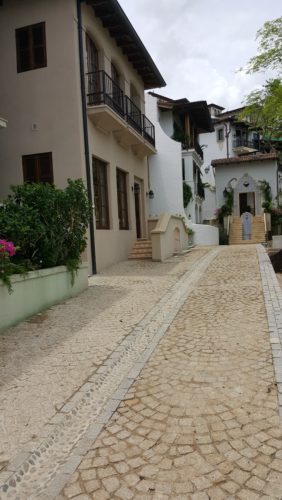 Credit: Rikki Hepburn
Next stop the beach! However, a special treat from Kensington awaited us at the Cortez waterfall halfway along the route. Kensington calls it surprise and delight and that it did! A fabulous chef and his wife had driven out from Arenal ahead of us to cook us the most magnificent lunch in the park. Hard to call it a picnic as all was piping hot, cooked fresh and delivered to us with lovely smiles. WOW! A dip in the falls to cool of was so refreshing before we continue on our way to Tamarindo, which we made in time for a cocktail on the beach while the sun set!!!!
Our final day was spent exploring Las Catalinas at Danta Beach in Santa Cruz. The developer of this property has the vision of building a town like those of yesteryears. It is amazing. No cars, windy streets with magnificent villas that can house from 2 to 20, grocery store, beach club, restaurants, spa and a hotel...all with fantastic views of the ocean. One would want for nothing, and should you feel like a day in town or a mountain adventure, perhaps a game of golf, that can be easily arranged. Great for families, or for that much needed time to disconnect with all your needs met. After a delicious lunch at the hotel we proceed to board a catamaran for an afternoon sail, more food, great bar, snorkeling , swimming and dancing. Could not have been more fun!
We started a week ago as strangers. We ended the week the best of friends whom did not want the night to end so we gathered in Liane's room for a final drink and dance lessons from our amazing Edgar and our driver Michael. I am not sure that this trip good be recreated, the itinerary for sure and it was perfect but connections we made, questionable. However, I do suggest that every woman I know should give it a try. Join a small group of women, or woman and man that you have never met before and travel to a destination that you have never been to. We get so wrapped up in our day to day life of existing and making sure everything happens as it should that we really don't realize what we are missing. When travelling with strangers, of course at first meeting we form an opinion, however as you are together for 16 to 18 hours a day, it is truly amazing what you learn from others when in that first 30 seconds you thought you had nothing in common with. Saying it is a life changing experience would be going to far, but I will say that I would love to do it again, oh where oh where shall I go?
The Travel Managers at Personal Travel Management our masters at creating these memorable experiences. Call me, I would love to chat and let you know whom I think you would love to work with!