This year, in May, I visited the small town of Quepos, Costa Rica while on a G Adventures Tour.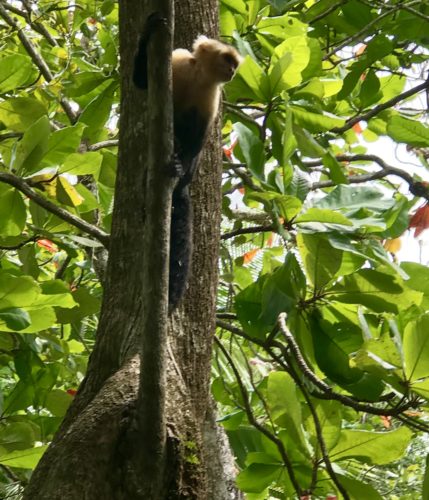 It was our first stop on a 16 day multi-destination trip, and a wonderful way to start the adventure. Quepos (pronounced Kay-POS) is located on the Pacific Coast, about a 5- hour bus ride from San Jose.
One of the highlights of this area is Manuel Antonio National Park, it is located about 7 kms away from the town of Quepos. Manuel Antonio National Park is home to some very beautiful beaches and is rich in biodiversity. It's also a very popular place to visit, so it's really best to get there early in the day. Our group left San Jose on a bus at 6:00 am which put us in Manuel Antonio around lunch time. We headed straight to the Park to get our tickets, and the wait-time for entrance to the park was about 45 mins. The reason for this is because they have park rangers checking your backpacks for things like chips, and other banned items. You aren't allowed to bring certain foods into the park because the monkeys will steal it from you and there is already a problem with the monkeys becoming aggressive around food. Sodas and waters are permitted, no alcoholic drinks, but you may bring packed sandwiches and already cut fruit. Once in the park, there is no food vendors. The park rangers will confiscate any chips, and granola bars, snacks, etc at the gate. The park is open from 7 am to 4 pm every day, except Mondays and the entrance fee to get in is $16USD. You can also book Naturalist guides, mangrove kayaking tours, and other fun activities.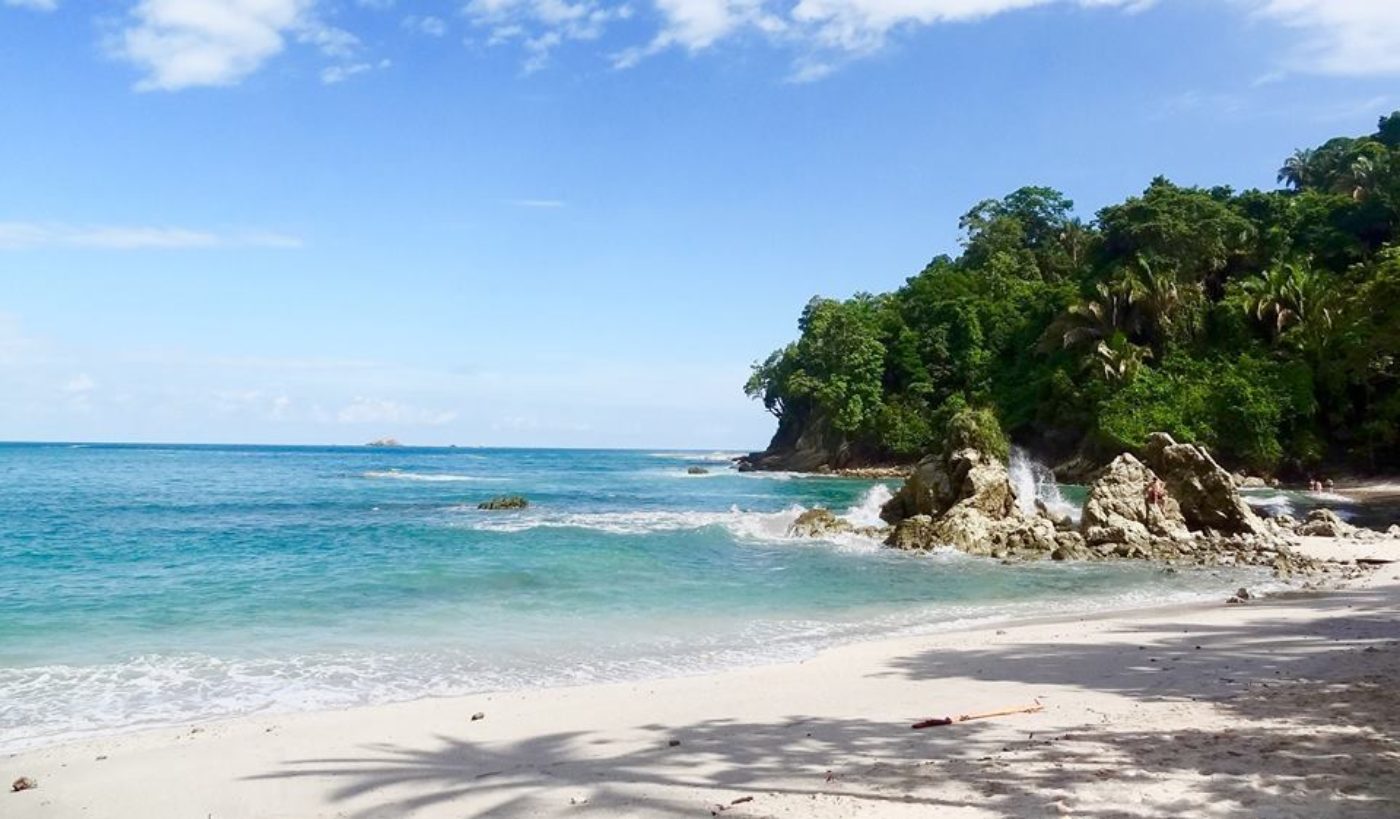 There is a cool boardwalk trail that winds through the forests to walk out to the beautiful white sand beaches. Along the way, you will hear various birds singing and may even be able to spot a three-toed sloth up in the trees. The highlight for me was the white-faced monkeys. They are used to tourists so they will come quite close to you, and are quite active swinging from the trees.
Once you have baked yourself sufficiently under the hot Costa Rican sun, you can take a dip in the beautiful warm blue waters of the Pacific Ocean. It's a wonderful way to spend the day. In the evening, be sure to check out some of the local restaurants in Quepos. The food is excellent and reasonably priced.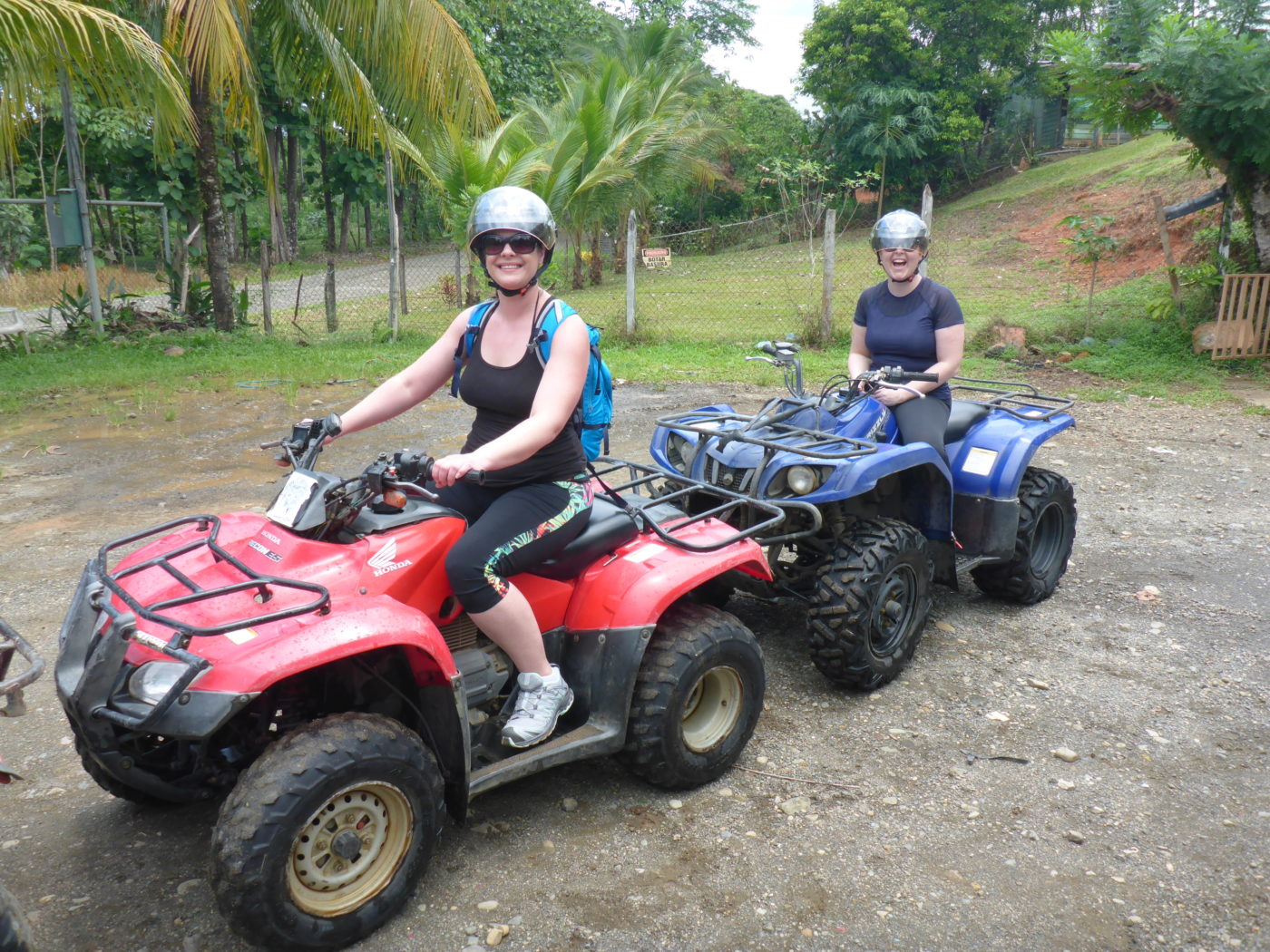 Credit: Robyn Freels
Our second day in Quepos, we decided to spend the afternoon on an ATV-tour with a company called Safari Adventures. They pick you up at your accommodation and take you to their base location where you'll be outfitted with helmets and an ATV. After a run down on safety, the guide takes you deep into the mountains, through rivers and palm oil plantations and finally up to a beautiful little waterfall. Lunch is included, and it was one of the best meals I had on the trip. You need to have close-toed shoes, water and sunscreen, the tour is about 3 hours total.
Our guide took us through pastures, and along back roads. Most of it was pretty easy terrain so the tour is suited for people who don't have a lot of experience with ATV's. It was my friends first time, and she had a lot of fun. Along the way, our guide stopped to show us different native flora and fauna. This picture below is of a cashew. The next photo is a flower from the ylang ylang tree. Ylang Ylang is the base scent for one very well known perfume.
We then drove up further into the mountains where we stopped off at a Teak wood mill. Could you imagine what one of those pieces of teak is worth?! Our guide told us this piece below was worth $900 USD. I have a feeling it's worth a lot more than that in North America.
After heading up to a beautiful viewpoint, it was time for lunch. We were taken up to a cool little tree-house type building perched on top of a hill in the rainforest and treated to a typical Costa Rican lunch which consists of rice and beans, home-made tortilla with pulled chicken and salad/slaw. It was a great way to recharge for the ride home, and get in a bathroom break.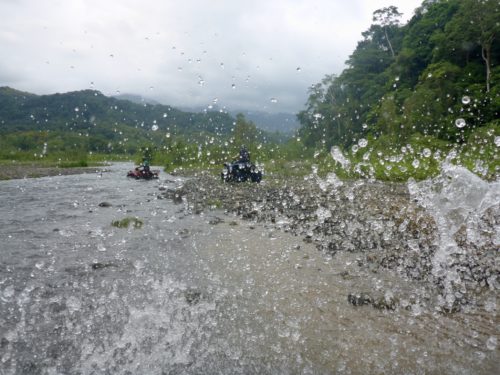 Credit: Robyn Freels
Our trip back to the base location was fun, exhilarating and definitely worth the money we paid. Our guide was funny, knowledgeable, and really helpful when my friend got stuck going through one of the rivers. I would highly recommend Safari Adventures Costa Rica for any of their tours.
If this looks like fun to you, call me and we can start planning YOUR Costa Rica adventure. This was just the first two days of my trip, and each area of Costa Rica brings with it a different experience from the last. There is so much to see and do in this small Central American country. One of the coolest things about Costa Rica, is that you can dip your toes in the Pacific Ocean in the morning, and be snorkelling in the Atlantic Ocean in the afternoon! Not very places in the world can you do that!
If you would like to chat more with me about my experience, or are ready to start planning your trip, be sure to get in touch with me!