Travel is back and you can do it safely.
Here we are providing a summary and useful links. These highlight the change in practices and the additional care being taken to ensure you are safe when you decide to start travelling again!
Airlines
Air Canada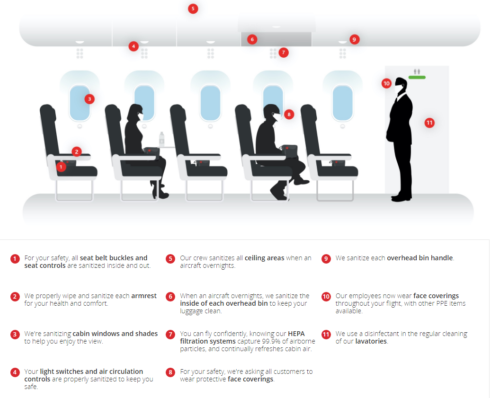 Generally airports and airplanes are not places for social distancing. Times have changed. Read below for comprehensive information on how airlines and airports are keeping you safe when travelling.
From the time you check-in to the time you disembark one of their aircraft, Air Canada has implemented new procedures. Everything from temperature checks, to providing you with Customer Care Kits that include a complimentary mask, gloves, bottled water, hand sanitizer and disinfecting wipes onboard. You can be sure the aircraft is throughly sanitized before you get on and each night.
On their website they have provided some great infographics to identify at each step of your journey, how they are working to protect you with their CleanCare+ program.
Westjet
With Safety Above All being a tagline of Westjet too have implemented enhanced cleaning measures to ensure you are safe when you are ready to travel again. This includes temperature checks, asking health related questions, ensuring distancing is observed at boarding and onboard. They provide a series of videos that share what you can expect on your next flight with Westjet.
Lufthansa
Should you need to fly a little further, Lufthansa wants you to have peace of mind knowing that measures have been put in place to protect your safety. Along with wearing face masks and constantly sanitizing, cabins are being cleaned and the airline is avoiding using buses to assist in boarding of aircraft.
Airline lounges are not currently available and there is a change in the services being provided onboard. When packing bring your own blanket and headset and look forward to more space. Due to capacity levels, Lufthansa is allocating seats as far apart as possible.
Air Transat
Who is ready for some sunshine and sandy beaches? Transat starts flying on July 23rd! If you need a sunny break, Transat has you covered. They have implemented a new health and safety program from before you board, while onboard and while being transferred to your luxury hotel!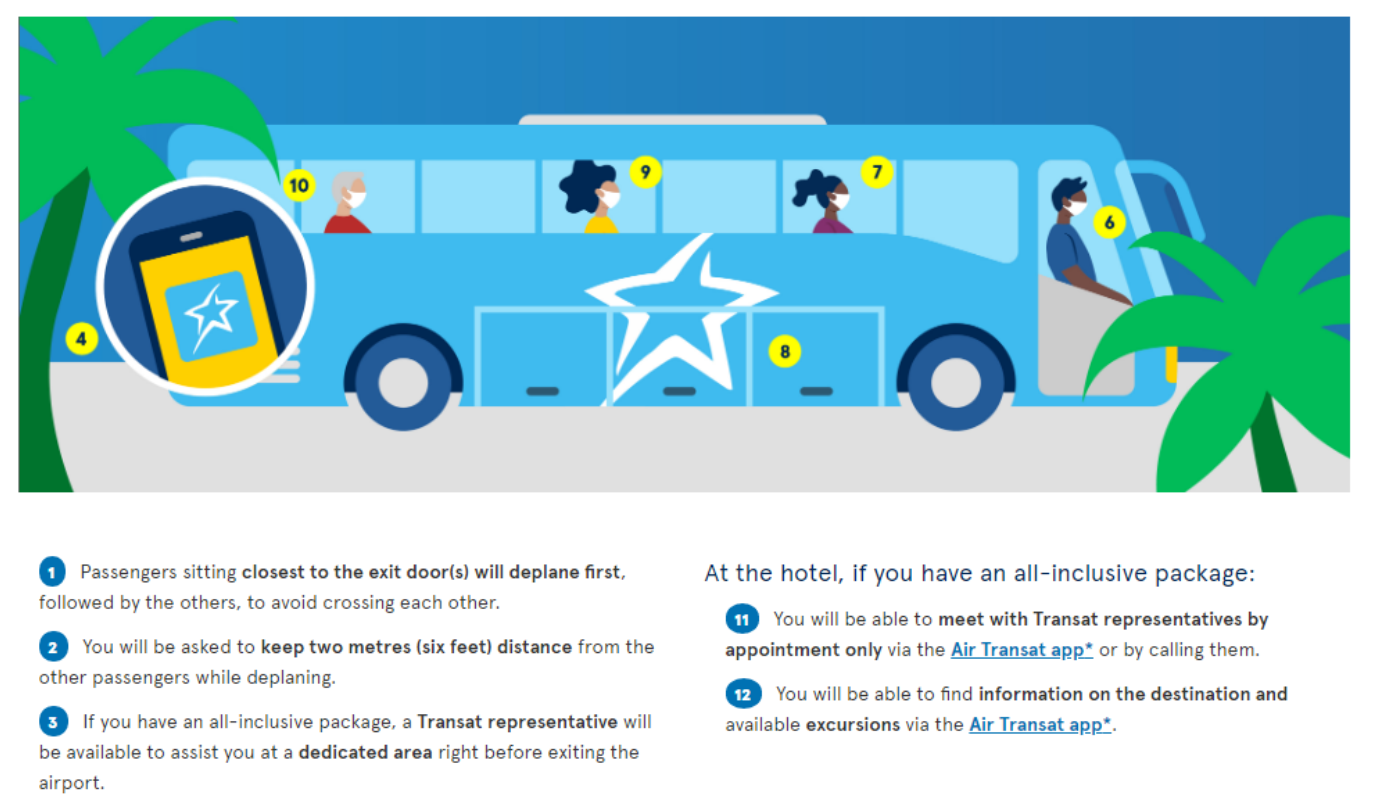 Their website provides helpful infographics for every step of your journey so demonstrate what measures have been implemented.
Aegean Airlines
Greece is now welcoming international visitors! Therefore if you are looking to go a little further and want to be confident your safety is being taken considered here are Aegean Airlines new procedures.
All passengers are required to wear a face mask during flight
A single cabin bag is allowed onboard
Physical newspapers will not be provided onboard, however access in available through Aegeans online streaming service
Disembarkation will be by row and therefore may be a bit slower.
It should be noted, upon arrival in Greece from Canada, you will be subject to a COVID-19 test and are required to isolate for 24hrs while test results are determined.
Airports
Vancouver Airport (YVR)
Should you be travelling through Vancouver Airport (YVR) you are required to wear a non-medical mask or face covering.
For those arriving into YVR from an international destination you can expect to be asked about your health. You will also be required to submit a self-isolation plan.
Hotel Companies
Let's face it, flying is not our only concern. We want to make sure that while we are in destination our health and safety is a top priority. The hotel companies are enhancing procedures and implementing new initiatives to ensure you sleep like a baby and relax like a lizard!
AMResorts
AMResorts have started opening up and you will see a larger increase in the number of available resorts starting July 1st. Although having high cleaning standards as represented by certification of Cristal International Standards, the company has implemented enhanced protocols to keep you healthy while travelling.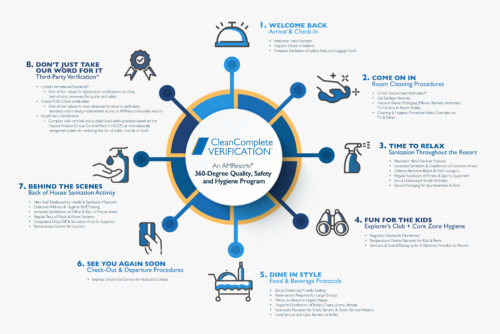 Credit: AMResorts
Where possible procedures such as check-in and check-out have become contact less, there are hygiene stations set up with sanitizer available. Expect more space as loungers have been distanced as has seating at restaurants. Don't forget you can always enjoy dine-in service on your private balcony....You can be assured your health and safety is a priority at AMResorts properties.
Cruise Companies
Cruise lines have been heavily scrutinized during the COVID closure. This has lead to serious improvements in onboard operations to ensure you feel safe when travelling on the high seas.
Paul Gauguin Cruises
On a ship designed for a maximum of 332 passengers, you are assured to have plenty of social distancing opportunities. Paul Gauguin cruises will start sailing again July 2020. If you need a getaway, Tahiti would be a great solution!
Paul Gauguin Cruises will commence sailings in July, with two initial sailings for French Polynesian residents only and then they will welcome international travellers onboard. As part of welcoming travellers onboard you will see the following procedures taking place:
Luggage will pass through a disinfecting zone before being taken to your stateroom
Masks, disinfecting wipes and hand sanitizer will be provided to all travellers
A la Carte dining will be provided in all restaurants
Occupancy in public spaces such as fitness rooms and theater will be capped at 50%
All high touch surfaces will be disinfected hourly
You can be assured of a healthy and safe environment onboard the M/S Paul Gauguin.
Princess Cruiselines
Regional closures means their commencement to sailing will be scattered around the globe. In the meantime all health and safety protocols are being stepped-up and enhanced ready to welcome you again.
Princess cruise lines Cruise with Confidence program enables you to make a decision before you have even left your house. If you are expected to sail, however do not feel confident to do so, connect with your travel agent as there are many options for postponement.
Once you have made the decision to sail, feel confident knowing that embarkation screenings will include a thermal scan to check temperatures and ensure no one is exhibiting symptoms. Sanitation is enhanced where highly touched surfaces will be cleaned continuously, hand sanitizer will be free flowing and all crew will be avoiding hand contact. A complimentary consultation with medical staff will be provided to anyone that demonstrates symptoms of a respiratory illness.
Avalon Waterways
Although operations are suspended for Avalon until the 31st of August, Avalon Waterways is ready when the world and you are to river cruise. They already have a plan that includes:
Distancing during embarkation and sanitization of luggage
Health screenings before embarkation
Reduced ship capacity to ensure you have more space onboard
Adjusting ratio of guides and coaches for excursions
Implementing new technology for sanitizing throughout the ship
Soft goods in staterooms disinfected between sailings
There are so many other great initiatives to keep you healthy and safe while river cruising with Avalon.
Norwegian Cruise Lines
With cruising suspended by NCL until August 30th, the cruiseline has time to implement new enhanced safety protocols ready for when you are. The cruiseline has upgraded the air filtration systems onboard to that similar to airlines and enhanced screening protocols. Sanitization of highly frequented areas and touched surfaces will be increased and fogging will take place in embarkation/disembarkation areas.
Let it be know that guest capacity will be reduced onboard allowing for more staggered embarkation and more space in public areas onboard the ship.