What is a 15 day tour of Morocco like? AMAZING! Here is my perspective.
While in Spain last year, I made a spur of the moment decision to go to Morocco and it was the highlight of my 76 days travelling.
My G Adventures tour was well-paced with good walks, a very knowledgeable tour guide, comfortable and well-located accommodations (even two nights with a pool), fabulous food places, a nice mix of young and old (22-70yr.), interesting partnerships with local community groups and travel arrangements that were always sensitive to those of us used to western sanitation.
Morocco is a country that been influenced by many others—France, Spain, Portugal and other Northern African countries to name a few. It is a hustling, bustling mystical place. Blue cities, desert foxes, movie sets, goats in trees, UNESCO world heritage sites, famous centuries old medinas……so much to see and so many highlights but here are my 3 favorites.
The Medina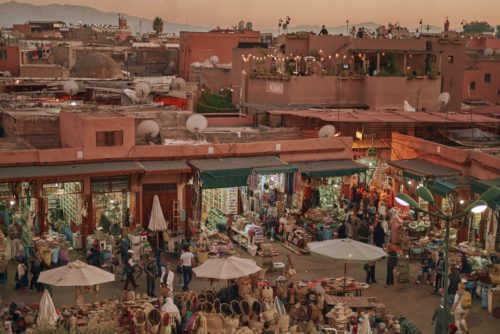 The medinas were pulsating and sometimes a little chaotic places. Bartering with the shop keepers, amazing items for sale, and tiny, intriguing shops as you wound your way through 1000s of winding narrow streets hoping that you would not get lost. Yet in places like Marrakesh you could go from being surrounded by hundreds of people, snake charmers, sellers, horse and carriages to a beautiful tranquil garden. The exotic Jardin Majorelle, created by Yves St. Laurent has a museum, painter's studio and bookstore and is only about 15 minutes away from the centre.
The Food
Forget "Skip the Dishes"……the Moroccan version is the best! On several occasions we bought food in the markets and then took it to a restaurant. Imagine ½ kilo of fresh caught prawns, peeled for you, seasoned with Moroccan spices and then cooked to your particular taste at a restaurant, all for about 10 Euros and with no mess to clean up at the end.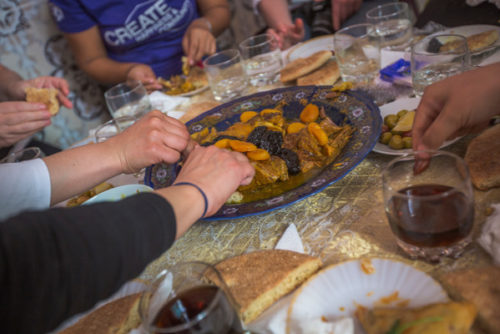 Another day we had made a very difficult, unplanned trek over a narrow mountain pass high in the Atlas Mountains due to a highway blockage. We arrived in a very small town with limited choices of where to eat. Our tour guide set off and quickly found a butcher to cut lamb chops for us. Others were sent to buy tomatoes and onions and a few other items. We then sat at tables out on the street and watched as they cooked the food up on the bbq. Never, ever have I had such wonderful, fresh lamb chops.
The Sahara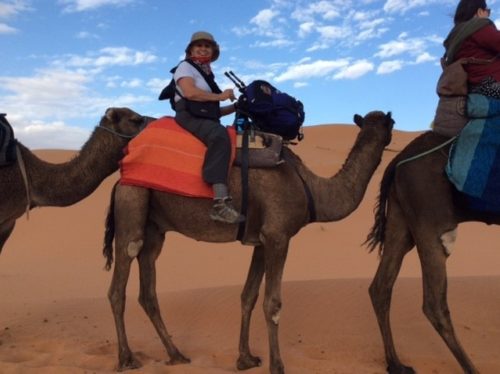 Credit: Diane Smith
I wasn't sure how I was going to do with the trip out to the Bedouin camp by camel having a fear of horses and other assorted four- legged animals. I forced myself to attempt it with a backup plan to walk if necessary. Before starting I eyed all the camels and noticed the one in line for me was an ornery one –it was like a small child that just couldn't stop annoying all the other camels around it by poking and prodding them. I refused that one and got on a smaller one. In no time, my hands were white from gripping the saddle, but after about 45 minutes there was an amazing calmness and serenity that passed over me and the rest of our group. We were all very quiet as we took in the amazing spectacle of the desert. It was wonderful to arrive at our camp -- well laid out, comfortable tents with flushable toilets and electricity. In the evening after a fabulous tagine dinner, we spent hours around the campfire listening to stories from our hosts, sharing songs, drumming and enjoying the beautiful full moon. The camels were tethered a short distance from us, enjoying the night as well as they called out to each other. In the morning we were surprised by the amount of sand that had blown up against our tents and knew we were very lucky to have had such perfect weather.
There are so many other wonderful things that I would love to share, but not enough space to do that. So I will simply say….Just do it!
About the Author
Diane Smith has traveled extensively and been a loyal client of our Travel Agent Robyn Bentley. She provided us with this account of her trip and agreed to share it with other travelers visiting our website. Thank you Diane and we are so glad you enjoyed your travels!