If you have a sense of adventure, are inspired to experience a wildlife safari, explore new cultures, wander historic sights – and believe in sustainable tourism, then let us introduce you to Christine Boecker – traveller and world explorer at heart.
Originally from South Africa, Christine Boecker CTC (Certified Travel Counsellor) specializes in customizing journeys for the sophisticated traveller. As a travel designer Christine Boecker tailor-makes African Safaris, personalized jaunts to Latin America & Galápagos and bespoke India explorations. Ask Christine to hand-pick your Polar Expedition or Small-Ship Cruise to undiscovered ports around the world.
Christine Boecker's tourism career spans five continents and four decades. Having worked in Africa and Europe, Christine settled in Vancouver, Canada and established TRΛVELBOECKER ΛDVENTURES, a division of Personal Travel Management in 1996. More about Christine...
Designing unique experiences for discerning travellers is Christine's forte, be it a solo jaunt, a romantic trip for two or a multi-generational family holiday. Christine is passionate about conservation and culture, crafting eye-opening journeys with emphasis on ecotourism and immersive experiences in the wild places of our planet, ranging from high-end luxury to more affordable options. The result is … well, check out these Testimonials!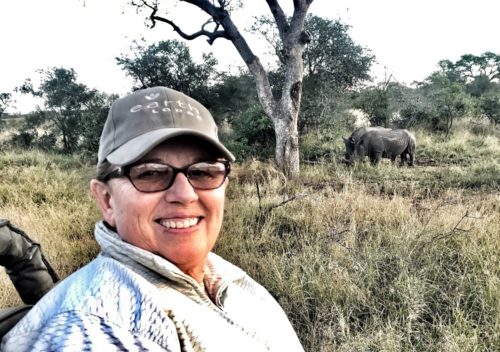 More are available at TravelBoecker Adventures!
Save the Rhinos and Leave a Legacy!
Christine's most recent wildlife safari inspired the first hosted Legacy Safari to South Africa's iconic Kruger Park in May 2019. Join us for a life-changing wilderness experience, while contributing to Rhino preservation and community empowerment. Limited space, so sign up early.
Read my recent newsletters here!
We have no hesitation in recommending Christine Boecker's services. Of course, people can consider a 'do it yourself' holiday on-line but had we taken that approach, we would never have found the gems that Christine found for us.

A & M Maynard, Vancouver BC
Thank you so much for putting our trip together to the Galapagos Islands, the Cloud Forest and the Amazon. You managed to design an itinerary that surpassed all our expectations - WOW!


S. Jobes, Vancouver BC
We had a wonderful , fantastic time in East Africa. All our camps were outstanding... the staff, the food, the guides - all excellent! The Star Bed was really wonderful, a great experience. One of our breakfasts was in beautiful scenery on top of a mountain, with table and tablecloth set up and surrounded by wildebeest and zebras. Just amazing!

S & B Huang, Vancouver BC
More Testimonials