I was the lucky winner and I had the chance to go to Columbia!
I think Colombia is a good introduction for travelling in South America.
The contest was hosted by ProColombia and was in partnership with Avianca & Movich.  I went in October 2017 which is supposed to be the rainy season and the weather forecast was rain all week.  However I did not get any rain at all, except a shower while we were on the bus from Villa de Leyva.
I only had a week and I could only make a stopover in Bogota, so I chose Cartagena (also to visit Playa Blanca) and Bogota. Then I took a bus to Villa de Leyva from Bogota.  I think Colombia is a good introduction for travelling in South America.  I thought Colombia was more like Peru and Ecuador - a bit of a chaotic place but has lots of unique and colorful Andean charm.  However it was more like Argentina and Chile, which has a strong European influence but smaller in size. Most of the place, the price was a set price, no negotiation necessary.  People are nice and there is not much hustle so even I, who only knows a few basic words in Spanish can survive, and I'm a Vegetarian.
My first impression of Colombia was so clean, organized and feel safe, very green. There were bike lanes in Bogota and there was some bike event, too. People seem to like dogs and many people were walking with big dogs. However it may be also problem because there were many street dogs in Villa de Leyva.  Taxi in Bogota is metered and the drivers were honest and friendly. Taxi in Cartagena does not have a meter and you need to negotiate before getting in. Taxi and local long distance buses are cheap as is the museum but food, clothing and souvenirs are not that cheap. Some are same as Canada or bit lower or more.  There were many Colombian tourists.  Not many foreigners, so not too many people speak English.  There are big hotels along the peninsula near Cartagena historical center.  These hotels are in front of the beach. The beach around here is not that pretty, but very popular with locals.  Rosario Islands or Rosario Island & Playa Blanca by boat is very popular day trip. I get sea sick easily so I took a bus which one of the hostels are organized to Playa Blanca.  It was very  beautiful.  Again there were many local tourists.  Most people get there by boat which that was the only way before but 2 year ago they built a bridge so now bus access is possible.  Now local farmers try to make living by selling something and it can be pushy.  Chair, washroom everything cost.  So the guide from the hostel took us to far end and we can relax. Historical area was pretty and lots of nice shops and restaurants. Getsemani area by the main historical centre is nice, too. There are many hostels and cheap hotels around this area. You will see more locals and cheaper cafes and restaurants. I like the courtyard and wanted to stay here, but my boyfriend wants nicer hotel, so we stayed at Holiday Inn Express on the peninsula area.  We walked to centro.   I think most people take taxi but it is a walkable distance.  Such a small place but traffic was terrible from hotel area to the centro. The Holiday Inn has a nice breakfast which is included in the rate.
The bus station in Bogota was clean and there wasn't any pushy sales. There were some sales people at the bus station in Villa de Leyva but when we told them we already had a reservation, she said thank you and wished us a nice stay.  There are many bus companies at the bus station but when I asked which place I wanted to go, then they pointed me to the right counter. There was only one bus company to get to Villa de Leyva, but on the way back, there were many choices and faster.  It took a half day to get Villa de Leyva by bus, but it was worth it.  The view along the way was beautiful, lots of green and cows.  It was nice to see small Andean towns.  Villa de Leyva is pretty and a relaxing town.  We did not have time for exploring outside but you can go cycling and hiking around there.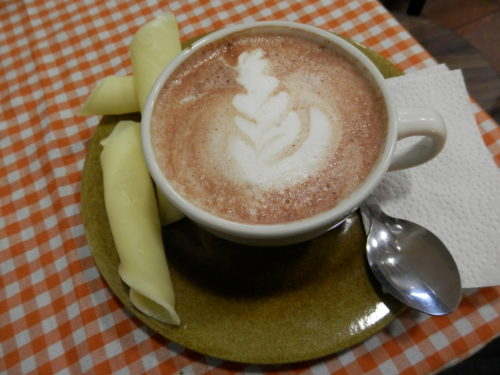 Colombia has great coffee, of course.  They also like cheese.  There are many cheese dishes.  Including Chocolate con Queso which means Cheese in Hot Chocolate - it was interesting.  Half of the restaurants seems to be a pizza place in Villa de Leyva.  There are many different types of cheese bread, I loved Pan de Queso.  Lots of unique tropical fruits too.
In Bogota, there is a huge shopping mall which has the same stores as a Canadian mall has. They also have a huge Walmart type place. In the historical area, I was glad to see a typical South American market street. When in Bogota, you must go to the Botero Museum which I missed.. They close on Tuesday, but it is free.  Museo del Oro ( Gold Museum ) is amazing, too. It only cost $4000 peso which is around $2CAD or so.
We stayed at Movich Chico 97 in Bogota.  This is located in a quite residential & office area.  One hour away from historical Centro by taxi.  The hotel will call the taxi company White Taxi which is expensive.  They do not have meters.  It is better to get Yellow taxi on the street.  It is a quiet area but it has some restaurants near by and a few more a few blocks away.  There are many big hotels including western hotels in this location. There were many people walking  by the hotel in the morning to go to work but it was quiet after dark.  I think it is because of safety, many hotels chose this location.  Between here to Centro, I saw a bit rough area.  But I did not see any homeless or panhandlers everywhere I went.  It takes about an hour, but taxi cost around $10, so even it is not too bad for tourists.  Tips for getting taxi, choose yellow taxi and young driver who has phone.  Even if they only speak Spanish, they can use their GPS to go to the places and communicate with the translator. We had an old driver from bus station and he did not even know how to use a calculator to show us how much it cost on the phone. The hotel had a good working desk. The shower, toilet and sink are all separate.  Breakfast was included and it was not buffet. Fruits was buffet but you order main dish from menu. It has healthy choices. The portions may not be big enough for some people, but you will get a nice hot meal.
Avianca had a strike and our flight had to go via El Salvador from Los Angles.  That made our shorter stay even shorter.  I am not sure because of strike or not, but all the time our flights were delayed, and we had a few more hiccups.  However staff were friendly and helpful. You may need a bit of patience because of that, but Avianca will be a good choice if you want to travel to Central and South America in one trip.  You can make a stop over in El Salvador and travel from there for Central America, then fly to Bogota. Using stopover is most likely you can get cheaper flight ticket. 
At this moment, only Canadians need to pay a reciprocity fee of 190,000 Colombian Pesos which is around $80-90CAD depending on how you pay it and exchange rate. You can pay by cash (Colombian pesos) or credit card.
Colombia offers a nice beach, culture, beautiful city and town, good food, less tourists (so far) which means you get more authentic atmosphere. People may have a bad impression of Colombia but you will find you were wrong once you get there. I enjoyed a lot. The only disappointment I had was that it was too organized and no hustle, I wanted to have the challenge!!