The Panama Canal
Cruising had never really interested me.
I always wanted something more active, didn't want to be confined to a ship in the middle of the ocean, and didn't know what I would do with myself on a ship. This past December I decided that it was time I went on a cruise to see what everyone was so excited about. The one place I did want to see via cruise and was on my bucket list was the Panama Canal…considered one of the wonders of the world. I set about planning this bucket list trip for myself and my teenage son.
I knew that I needed to find a cruise that worked with my dates at Christmas time (kid in school) and that had an itinerary that interested me. I had to consider partial or full transit through the locks. We did not have enough time to do the full transit (2 weeks needed) so, partial transit it was! I found such a cruise departing from Fort Lauderdale on Princess Cruise lines. The itinerary worked, the dates worked and we were set!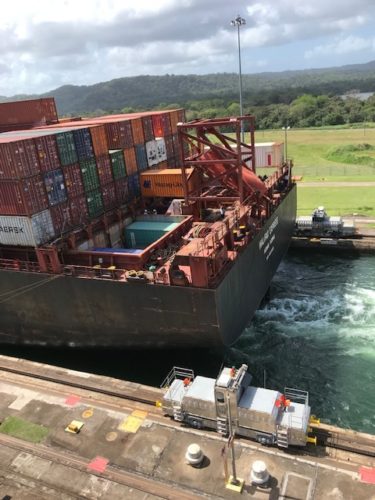 Before we left, I did a lot of reading about the Panama Canal. What a wonder! The Panama Canal is an artificial waterway that connects the Atlantic and Pacific oceans. There are 3 locks that lift ships up to Gatun Lake, an artificial lake that was built to reduce the amount of work that was needed for the excavation that was required for this endeavor to work. The locks that we went through were the first set of locks on the Atlantic side, the Gatun locks. There is a 3-step process that lifts the ship 85 feet above sea level and into Gatun Lake. While I am not an engineer, what I witnessed were these tiny locomotives (called mules) guiding the ship into a section that is then locked, water is pumped in from the lake to lift the ship until it is ready to be released. It was great. The cruise ship had someone talking over the speakers to take you through each step and how the whole thing worked. He even pointed out the crocodile that was resting on the shore.
What was fascinating to me about this whole process, was that this engineering feat was constructed over 100 years ago, prior to all the technological advancements we have today! The other part of this that was interesting, and depressing, are all the lives that were lost, and the ecological destruction caused to make this man-made crossing a reality. While it was necessary for trade, as prior to this the only way to get through was to go around Cape Horn which took over a month. That being said, there were thousands of lives lost to build this man-made wonder.
On this Panama Canal cruise, we first stopped in Jamaica, then Cartagena, Columbia (a tour of the Old Town is amazing and I cannot wait to go back to Columbia), then the Panama Canal, Limon, Costa Rica (where we went to the Sloth Sanctuary) and Grand Cayman to swim with the stingrays.
This was an amazing trip and for anyone who wonders what they would do on a ship all that time, believe me, you find a ton of things to do. I went to wine tastings, art auctions, Zumba classes, lectures on the Panama Canal…basically there is no shortage of things to do. This also goes for the kids… my teenage son met a ton of other teenagers from all over the world and is still maintaining contact with them.

If you have ever wanted to go on a cruise but were hesitant, I am here to tell you…do it!! I am looking forward to my next one!
This was my complete itinerary onboard the Island Princess.