My trip to Barcelona was definitely a last-minute decision.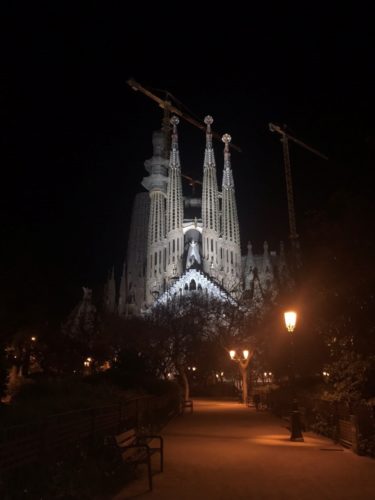 Earlier in the year, my mom had asked me if I wanted to go. Each spring, my auntie rents an apartment in Barcelona, and usually various members of the family come for couple weeks. My mom's plan was to spend the last two weeks there and when she asked me if I would go, I had to say no, because I had a lot going on with work during that time, and plus the fares were a bit expensive. Then just a couple weeks before mom was set to depart, I came across an incredible offer from Air Canada! The offer was quite restrictive, but I checked on the dates, and it was going work for me! So, I booked the trip and promptly ran off to the passport office for a renewal. I thought to myself "I'm going to surprise mom, she will be so happy!" So, I organized things with my auntie via email, and the travel train was set in motion! I ended up departing from Vancouver just one day after my mom, so when I arrived at the apartment, my mom was just waking up from a jet-lag slumber. The reaction was more of shock than anything else "What are you doing here?" She looks at me totally stunned, but after I explained I came to surprise her, we all started giggling, and we all knew there would be fun times ahead. My mom had already been to Barcelona a few times, and she loves Gaudi and I knew there were many places she would want to show me. That evening we went to a pub for dinner and to watch the Barca football (soccer) match against Rome. The pub was right near La Sagrada Familia, so mom and I took a little walk around. It sure is beautiful all lit up at night.

Our next afternoon took us up to the Parc Guell, we ended up just walking around the free area of the park, which is beautiful and offers stunning panoramic views over the city.
The part of the park that you pay to see was totally under construction, so the crowds were contained to one small area of the courtyard, and I was sort of glad we stuck to the outer areas. It's certainly a place to go early in the morning to avoid the crowds and buying tickets online in advance is favourable because they only allow a certain number of people into the paid part of the park at any one time.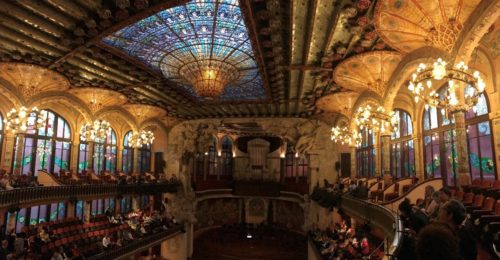 That evening, we went to The Palau de la Música Catalana to see the opera, they were performing Carmen. It was such a beautiful place to visit, the interior of the concert hall is stunning. It's an architectural jewel of Catalan Art Nouveau, the only concert venue in this style to be listed as a World Heritage Site by UNESCO and considered an essential visit in the list of top 10 things to see in Barcelona.
On Friday, my cousin who lives in Berlin flew down for the weekend, so we went out for a nice dinner that evening with my mom and auntie, and enjoyed some of the evening views on the walk home.O
On Saturday, we got in a solid afternoon of shopping and wandering in and out of shops, chatting and enjoying the city and stopping for coffee whenever it was necessary. A very cool part about Barcelona is all the little street cafes and eateries, where you just plunk yourself down if you need a break. My cousin spent many years living in Barcelona before her first son was born, so it was great to have someone who knew the areas well.
Monday was a big sight-seeing day which brought us down to the Gothic Quarter with a stroll along La Rambla, which hosts the most amazing market called La Boqueria. Talk about a chef's inspiration! Every table was so beautiful.
That afternoon we had tickets to go to La Sagrada Familia. My mom and auntie weren't so keen to go up the towers, so I went up by myself, and it surely isn't for people who are afraid of heights! Guard rails, or not, when you are up that high looking down, it is definitely a tad scary! Worth it none the less, they take you up one side in an elevator, and then you walk the little bridgeway between the towers across to the other side and begin your descent down the narrowest staircase I've every been on!! When you visit La Sagrada Familia, going in either the morning or afternoon will give you the best views inside. We went at 3:45 pm, which was right when the afternoon sun starts beaming through all the stained-glass, so the inside was lit up beautifully
On my last day, we decided to enjoy a leisurely stroll down to the Parc de la Ciutadella. It was a nice way to spend the afternoon, enjoying the architeture,and taking some nice photos along the way.
If you love great food, architecture, and history, then Barcelona is a great place to visit as it hits all the marks! The Metro system is an excellent way to get around, once you have an idea of how it works, it's very effective and inexpensive. It may seem daunting at first because when you look at the map, it is quite extensive, but for the most part this is how we got around while we were there. It's around 10 euros for 10 trips, and once you are in the gates, you can transfer trains as many times as you wish. Just be sure you're getting on the right train, because it's easy to end up going the wrong direction.
Another great service that is offered is free WIFI throughout the city, as well as the Aerobus which for just under 6 euros will take you from the airport to Placa Catalunya which is basically the city centre. It takes 35 minutes from the airport, they run every 10 minutes and they also offer free WIFI onboard. Hard to beat that!A
My visit to Barcelona was indeed short, but sweet. I'm sure there are many other places to see and things to do – There must be a reason why my family keeps going back year after year. It was great to see some of the places that my mom has talked about over the years, and it was a trip we won't soon forget.
It's a wonderful thing to be able to create new memories with your family through travel because it's always an adventure and a usually a lot of fun.
Be honest… does this not look like fun??