Finally we did it! A bike tour – a bike with two wheels and human powered that is.
My boyfriend has for a few years now been suggesting that we go a biking holiday. Me, I'm no hard core biker, so wasn't sure I would be able to keep up. However we were going to England for a friend's wedding and to see my cousin and well, we had 5 days that we didn't have a plan for.
The Exodus/Headwater Dorset and the Jurassic Coast self guided bike trip had caught my eye and well, it fitted into our schedule quite nicely. I reviewed the rating 'leisurely' and decided that this was a sign that I need to try this type of touring – so I booked it.
The bonus was that the itinerary is provided to us and people have tried it before us (for 3 seasons), so the boyfriend and I wouldn't argue about which way to go. Holidays are so very short, we don't need arguments.
We arrived into Weymouth by train and were met by one of our guides, Jackie. She took us to our bed and breakfast accommodation located in a historically listed building with a brief city orientation. We were checked in and left to see the resort town. Roy, our other guide, would get us ready in the morning for our biking.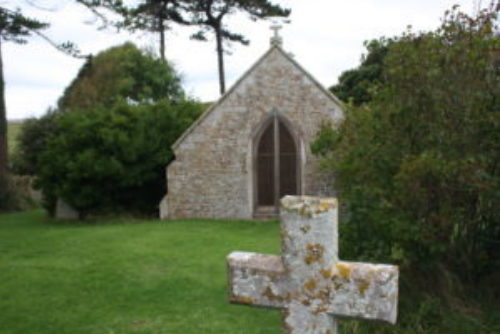 Weymouth is bustling in the summer, however since it was late September, most tourists were gone and the town was quiet. The town was made famous by Kind George III as it was the home of his summer residence. As it was not peak season, we were able to walk the streets and explore the harbour before choosing somewhere to dine.
The following day Roy met us we went over our itinerary for the next 4 days and got our bikes ready. We had reviewed this the night before in the pub and decided that there were probably too many instructions here and we wouldn't need them all (Amateur thoughts). I was still doubting whether I would make it through the first day, but was excited to see the countryside by bike and just take my time. It was also going to be nice, that we didn't have to lug our bags around as the lovely Roy and Jackie would deliver them every day from our departure point to our next arrival town.
The Dorset region, which we would be riding through, is a UNESCO world heritage site. It has 185 million geology and this is what has made this site so interesting to many. The layers of rock reveal many insights into the 185 million years of history. There are also many ties to literary notables such as Thomas Hardy Enid Blyton.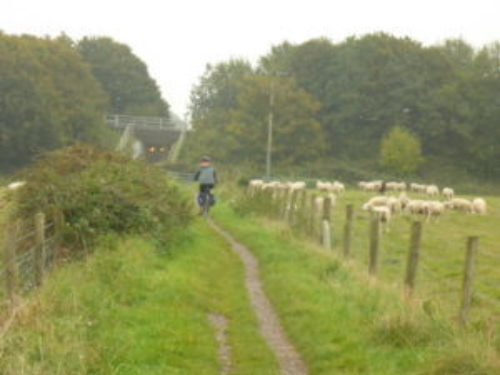 Setting off on our bikes we cycled along cycle ways, back country roads and bridle ways – at one point going between the buildings of a dairy farm. No we weren't lost, England has a law that certain paths are to be made accessible to the public whether these are through a farmers field or not. So many times we were biking between a farmers paddocks with their livestock watching us.
Our first day of biking took us from Weymouth to Dorchester. A total of 32kms. We discovered that a) we would need to follow all the instructions provided and b) we were going to see things on this short trip that had we of driven, we would never have see.
The view from Hardy's monument on our first day was impressive, as was the view from the St Catherines Chapel in Abbotsbury. Referring to our instructions we found the quaint Fleet Chapel tucked away behind some houses.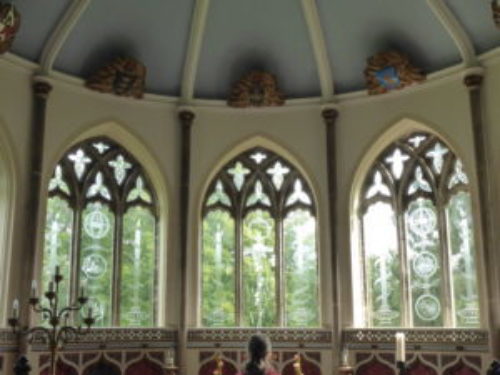 Our second day we biked a total of 47kms. We visited lands surrounding Hardy's cottage – that is the writer Thomas Hardy, the Morton Church. This church is the burial site of T. E. Lawrence and has a one of a kind etched glass window of Judas being hanged. We visited the famous Durdle door and along the way stopped at tea rooms for breaks and pubs for lunch – its just what you do.
The 3rd day of our tour was a bike free day. We did have plans to take them out and ride to Swannage from Wareham, however it was looking like rain, so we opted for the bus. We stopped at Corfe castle and learned its 1000yrs of royal history and treachery by walking through the remaining ruins on the hilltop overlooking the little village. We then bordered the steam train to the seaside town of Swannage.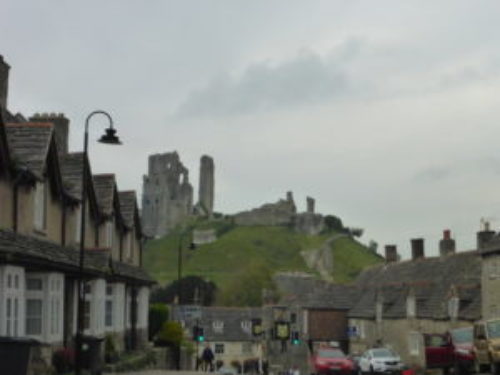 After our day off the bike, we were ready to get back on. Luckily the rain had disappeared overnight and made way for a beautiful day. The rain had left some puddles and muddy tracks, but that just let me pretend to be a kid again and get dirty! We set off from Wareham toward the coast. Today we were going to visit Knoll Beach, now owned by the National Trust, then take a ferry over to Sandbanks our final destination and the 2nd most expensive postal code in England. This was not before we had cycled a little further to check out Poole. Knoll beach was a lovely place to have some lunch and watch the ocean – the water was a bit nippy, but not too bad. I can see why it would be busy in peak summer season!
Our bike ride concluded with a glass of wine overlooking the Poole Quay from our accommodations in Sandbanks. We concluded that we had really enjoyed our time on the bikes. It was a destination that surprised us and this was the perfect way to have experienced it. My boyfriend said it was just what he needed from our vacation. We visited places that we would not have made the effort to go and see otherwise. The route instructions were perfect and we only detoured slightly twice in our 120kms – which we figured was pretty good. We very much enjoyed our first cycling vacation together and I don't think it will be our last one.