What an incredible event to be associated with – Girl Guides SOAR (Spirit of Adventure Rendezvous) which this year was held in beautiful Smithers, BC.
The event takes place every 3 years in B.C. and over 2,000 girls from across the Province, as well as visiting Guides from around the world, make the journey to the chosen destination.
My team and I at Personal Travel Management ("PTM") were both thrilled and honoured to be selected to help arrange the flights and ground transportation for a large portion of the attendees. This was a first for B.C. SOAR, but was deemed necessary due to the remote location of this years' event.
This was a huge undertaking, but my super assistant, Bronwen, and I were up to the task! Over the preceding year of planning we worked with Air Canada, Air North, Regional 1 and Canadian North to provide charter services. Air Canada looked after the staff on scheduled group flights and the other airlines using charter aircraft for the girls and their leaders. The airports involved included Vancouver, Abbottsford, Victoria, Nanaimo, Kelowna and Kamloops.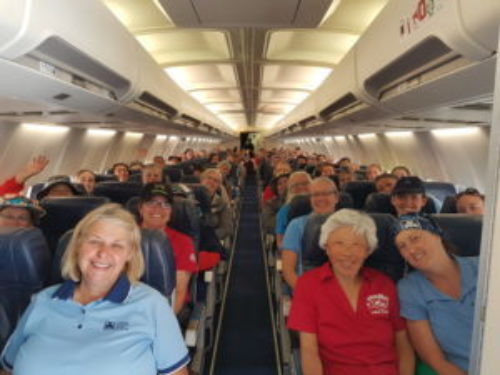 Access stairs had to be sent to Smithers to reach the doors of aircraft that were much larger than normally scheduled for this small regional airport. We were effectively running an air-lift of military precision rather than using regular airport check-in for the charter flights. Luggage had to be tagged correctly and volunteers were in place at each airport on flight days. Check-lists upon check lists! Excited families EVERYWHERE!! Our flight crews and the control tower crew at Smithers were all amazing and ran to our tight schedule for the rotation of aircraft.
But with all of this going on, the girls were incredible! They were so happy and excited to be flying and going to SOAR. They had been raising money for this event for 3 years and now it was finally happening.
There was only one day of rain for check-in and with our location in Abbottsford, there was really nothing that could be done about getting wet. The girls still never stopped smiling and there were no complaints whatsoever! I was bursting with pride doing the check in and watching them board the planes.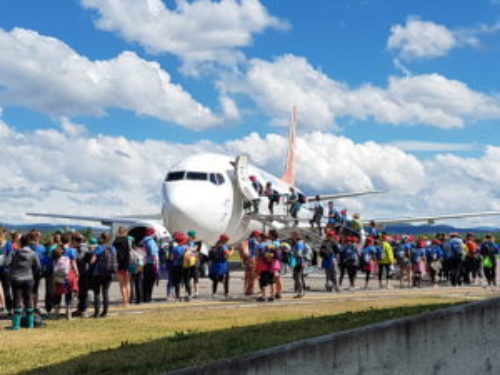 In Smithers – people were coming from far and wide simply to watch the large jets arriving and departing and the school buses that we had on a rotation taking everyone to the Fairgrounds which they would call home for the next week. Banners and signs welcoming the girls were in EVERY shop front, with banners across the "Welcome To Smithers" signs at both ends of town and across Main Street. It definitely was a big event for Smithers which is an absolutely beautiful and friendly town and one everyone should visit if they have the chance.
As SOAR was coming to a close, Bronwen and I made the trip up to assist with the return flights and we were lucky to be able to watch the closing ceremonies.
After a week of SOAR, the girls no matter how tired they were or how they wanted a long hot shower and their own beds (don't forget about WIFI!!), were all still happy and thankful to be boarding each aircraft home.
I can't emphasize enough what an absolute privilege it was to assist the Girl Guides, but more importantly to see what an incredible organization this is. Their motto, heard often over the past year, of "Be Prepared" will remain with me forever!