Whitehorse is outstanding and I have been knocked off my feet with what a wonderful place this is.
Today is my last day here and it is going to be epic. Dog Sledding followed by Ice Fishing followed by Snowmobiling and then tonight back out to view the Northern Lights.
We went out last night but unfortunately it did not clear up so I am running on approx. 3 hours sleep since we did not get back to the hotel until 2.30am this morning.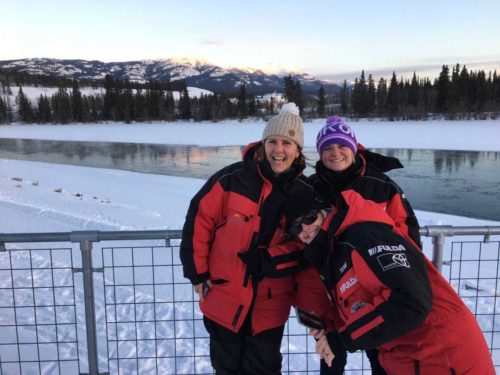 I have learnt how to blow glass at a fascinating glass studio. Been out to the wildlife preserve and learnt all about the animals and their lifestyle up north. Soaking in hot pools with the outside temp still showing -34C on the car dash. Ridden a mountain bike on the Yukon River.
And I am starting to acclimatize to the cold! – who would have thought that would ever happen.
Anyhow I must go and dress again like the Michelin man ready to brave the elements for this final day.
I will be back again as I have found the perfect package for me – a 7 day learn to be a musher!!!!! I cannot tell you how excited I am that the dog sledding company has this package.