As a travel specialist, I work with families to create family stories and experiences. My expertise is with multi-generational families and those with special needs.
---
"Mum, Dad, Darryl and I went walking Today. We walked to the Vatican where the pope lives. It's so amazing. There's heaps of nice paintings on the walls. Go and see it. I would see it again".
---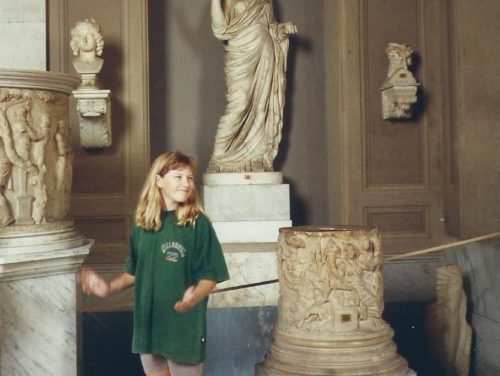 This is from my travel diary and describes one of my days from the first overseas trip my family took when I was 11 yrs old. A common theme in my first ever travel journal was "go and see it"! Funny how years later I still say it and guess what? I did go and see it again when travelling through Europe in my early 20's.
To travel is to experience local cultures and communities - from the rice paddies in Vietnam, the Mona Lisa in Paris, the majestic waterfalls in New Zealand, to "where the pope lives" or the ancient ruins in Peru. In visiting new places and being part of new experiences around the globe a person creates memories and is changed forever.
What is holding you back?
Your travel time is limited, do you want to spend it planning travel, or do you want to just travel?
"20 years from now, you will be disappointed by the things you didn't do, than the things you did". - Mark Twain
I coordinate amazing travel itineraries! I am your travel planner. Share your travel ideas and dreams with me. I then provide you with suggestions. Once we confirm, I coordinate the bookings and provide support until you return from every journey. This includes when you are thrown a curve ball; hurricanes, strikes, the unexpected, you will have someone at home to deal with these issues, leaving you free to just enjoy your travel!
I am as invested in your journeys as you are!

As a professional Travel Agent I have a wide circle of industry contacts and knowledgeable colleagues. I have traveled extensively coming from Australia and travelling in Asia, Africa, Europe, Canada, United States and New Zealand. I thrive on learning about new adventures, unique opportunities and meeting the people who provide these experiences. I have a lot of business cards!
What you should know about me:
I get excited about travel – not just mine but other people's!
I truly believe everyone can travel! I have obtained my Special Needs Certification to demonstrate my commitment to enable those with mobility challenges or require extra consideration in how to make travel dreams come true.
I feel privileged to share travel experiences with my clients
What type of traveler are you?
Are you a small interest group going to explore the Fjords of New Zealand?
Do you want to travel, but thought it was too hard because of a physical disability?
Are you school group going to visit some students in another province for a shared sporting or cultural event?
Are you wanting to make connections with your family history?

If you answered 'Yes' to any of the questions above, you should contact me! I live in Whistler and enjoy meeting my clients throughout the Sea-to-Sky corridor, from Pemberton and into Vancouver. Call or email me to schedule time to discuss your travel plans and "Go and see it!"
Here are some pictures of my earlier travels!
Bronwen provided skilled, knowledgeable and responsive service in helping us to plan and book our family vacation.

When traveling was postponed due to the pandemic, Bronwen worked effectively to ensure that we did not suffer any loss as a result. We are looking forward to booking through her service next year and highly recommend her to our friends and family.

Michelle Antil
Bronwen went above and beyond to help with my family vacation. She monitored ticket prices to see if they were going to drop before we had to buy them and she kept us updated. She got us our Neatly organized documents when we needed them and was not only knowledgeable but friendly too! She took the time to really know me and my family.

Ashley Doan
We usually don't book with a travel agent but Bronwen did an exceptional job finding us the perfect destination for a great price. She picked out the best flights and the best hotel that fit with all our needs and desires; Everything about our trip was unforgettable. Definitely going to book our next trip with her.

Nadia Lanigan
More Testimonials