Introducing Anthony Bucci - Acclaimed Birding Photographer
Birdwatching… it's a thing… it is actually a really big thing!
If 2020 has taught us anything it is to 'SLOW DOWN' and enjoy our immediate surroundings. When we are forced to live in today with no crazy busy plans for tomorrow, things like watching birds, smelling flowers and appreciating sunsets suddenly go to the top of things we are grateful for.
Now we are planning trips within our borders more than ever. Our country, Canada, is vast and beautiful! Sadly a lot of us are just realizing this for the first time. Anthony Bucci is a true Canadian trend setter. He opened his eyes to his immediate surroundings years ago. With a passion for wildlife photography Anthony and his family packed up their home in Abbotsford, BC and moved to Port McNeil, on Vancouver Island, were the wildlife is constantly surrounding them in abundance.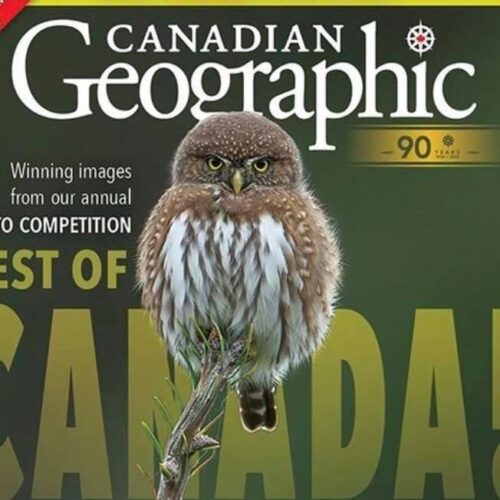 Credit: Anthony Bucci
Anthony is an acclaimed birding photographer and his wife has been part of the Personal Travel Management team for the past 5 years. This has lead us to follow Anthony's career change with pride and excitement. Anthony followed his passion and pivoted his career from a foundry worker/part-time sport photographer/ hockey coach to an established wildlife photographer. He has been featured on the cover of the Canadian Geographic magazine - that's how good he is! Anthony's wildly successful (no pun intended) career now has people traveling to the inside passage weekly for his private guided marine photography tours.
Join his facebook page as he posts most evenings of his adventures, we guarantee you won't be disappointed.
We are hosting a tour in 2021 to Newfoundland with such an Accredited photographer , we thought it would be fun to ask Anthony some questions and let you know more about who you are travelling with!
Question: What started the passion of photography for you. A photo, a person, an experience?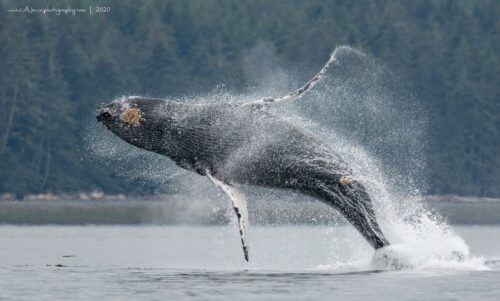 Credit: Anthony Bucci
I've always liked taking pictures as a child and loved owls. My mom and Grandma have always been very artistic in taking photos and painting so I started to take more pictures. I was an avid river and ocean fisherman and would see lots of wildlife while i was out hiking to rivers. I decided to focus on taking pictures of the wildlife and then strictly started focusing on Birds of Prey specifically owls as they were very interesting to me. I have now spread my photography focus on all wildlife including Marine wildlife.
Question: What is your favorite type of photography?
Credit: Anthony Bucci
My favorite type of photography is Wildlife. Birds of Prey, Bears, Elk and Marine Wildlife. You may see many of my images around, as they are featured on hydro boxes around Vancouver Island. One of many images recently selected to be wrapped on various hydro boxes is the Northern Pygmy Owl. This is one of my favourite images.
Question: What has been your favorite photo project?
Two and a half months,110km of hiking, twisted ankles, cuts and scrapes. Relentless bugs, snow, wind and heat. My friend and I ventured into the Interior of BC to find Great Grey Owls and their Babies.
Question: What has been your biggest challenge and reward in photography?
My biggest reward has been making the cover of Canadian Geographic Magazine.
My Biggest challenge was learning how to find the wildlife. Learning their different habits and habitats. I did a lot of research reading lots of books and online
Question: What is a photo tip you are willing to share prior to the tour for budding birding photography enthusiasts?
Angles are important- If you find your wildlife subject against a backlit background or the light is not cooperating with you, try moving around and take your shots from a different angle. Sometimes the subject will be nicer from one side compared to the other side.
Clothing- wear earth tone colors to blend in with your surroundings.
I photograph in Live Mode and use a Remote Shutter Release.
Now that you know a little more about our photographer you can understand why Personal Travel Management is so excited to offer a unique tour with Anthony as a host. From June 6th to 16th, 2021 Anthony will be taking a select group of individuals for a first ever 11 day Newfoundland Photography and Birding tour! Discover with us why Newfoundland is nature and wildlife enthusiast's favorite playground!
June was selected because it is the peak season for seabirds. Massive icebergs can also be seen floating past the islands villages at this time. For those that love birds, Northern Gannets, Atlantic Puffins, Black-legged kittiwakes, Razorbills, Block Guillemots, Boreal chickadee, Crossbills, Gray-cheeked thrush and Blackpoll warblers are expected to feature in your photo portfolio on this trip. In the evenings, Anthony will be offering developing tips and tricks for those that are interested to enhance their skills. This is definitely a unique trip for the memory bank!
As the author of this blog I, Darci Murray, want to share my personal experience as an unintentional witness to Anthony's photography leadership skills. I took my 4 boys camping to Port McNeil, Anthony's hometown. Anthony looked at his watch and told all my boys to jump in his truck as it was 'Bear Time'. He knew it was dinner time and had a hunch where we could find bears. Within minutes we were safely witnessing 11 bears climb trees and feed. There were a ton of eagles there too. I am not a photographer and with my Iphone was trying to capture the moment. The bears were fantastic, but the jaw dropped faces on my kids is the memory I will carry forever. It was magical, informative and one of the best memories ever with my boys. The whole time we were with Anthony the boys were learning about bear behaviors and how to take pictures. Anthony's demeanor was just awesome.